What are HTTPS and SSL?
HTTPS is the secured version of standard unsecured HTTP protocol. These protocols are used to transfer data between your website and your visitor's browser & the 'S' at the end of HTTPS means that data transfer is secured and encrypted.
The SSL Certificate is a small file that binds a cryptographic key to your website. When the SSL certificate is installed on your website hosting account, it activates the green lock in the browser's address bar and activates the https protocol, allowing secure data transfer from your website and your website visitor's browser.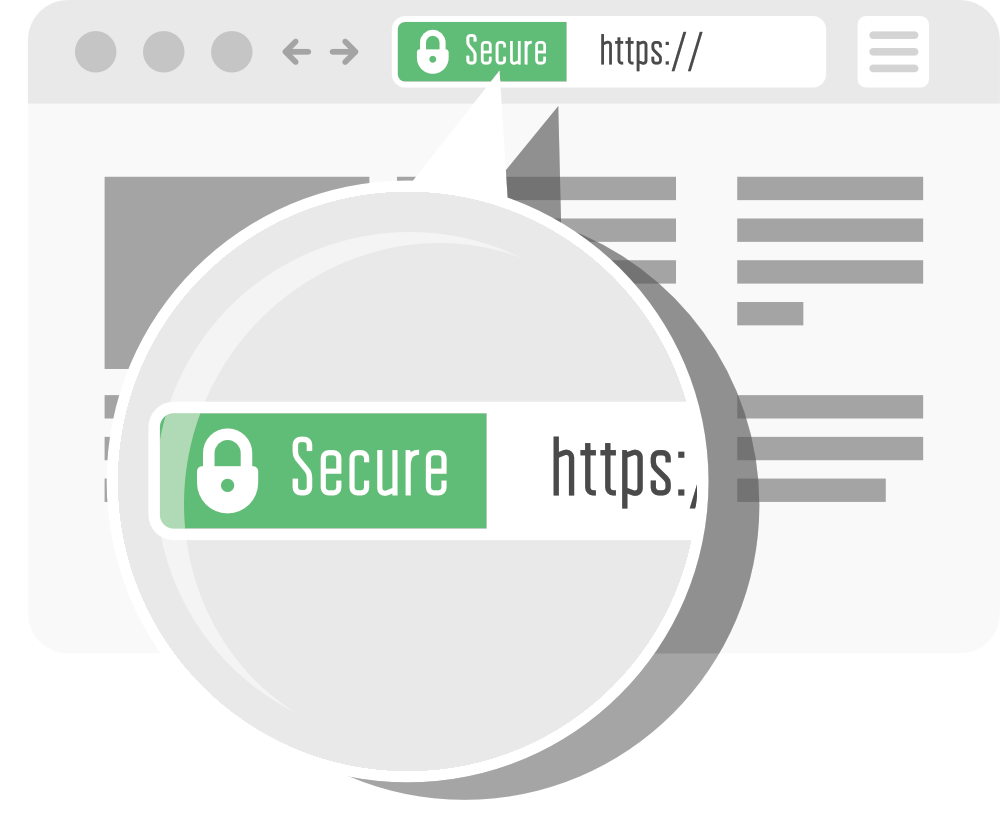 Why your website needs a SSL Certificate?
1.
Security
Transfer all information, including email, encrypted between computers and users. Protect yourself and your visitors from data theft.
2.
SEO
Google and other major search engines favor SSL secured websites. SSL protection is an official search engines ranking factor.
3.
Website Credibility
In July 2018, Google Chrome, the most used browser world wide will mark any website without SSL certificate installed as "not secure".
4.
Earn Trust
Green lock visual cues assist in building trust with your visitors which leads to greater conversions and sales.
Why SSL web hosting from 2MHost?
Free for all hosting plans and websites
*
Wildcard SSL certificate support.
SSL security for Website and E-Mail
100% Automated installation and renew
Compatible with all major browsers
Boost Google search ranking
Web Hosting Plans + Free SSL
Pricing lock & 30 days no-questions-asked money back guarantees.
Free SSL Certificate: FAQ
Does the paid SSL certificate offer stronger encryption than the free SSL certificate?
Absolutely not, free SSL certificates offer the same level of security and encryption offered by any paid SSL certificate. We use the same free SSL that we install on our clients' websites on 2MHost.com website. In 2022, we think that any hosting provider that markets and sells SSL certificates is scamming their clients.
Does it require any experience to set up an SSL certificate on my website?
No, the free SSL certificate will be installed and activated on your website automatically, you do not have to do anything. The free SSL certificate gets renewed automatically every 90 days.
Does SSL certificate protect my website files and database?
No, HTTPS and SSL only protect data transfer by encrypting it between the website (server) and the browser (user).
HTTPS and SSL will not protect your hosted files or your computer, SSL will not protect your website if you uploaded files that already contain malware and will not protect your website against hackers' attacks if you are using an outdated version of open-source software like Wordpress, Themes or Plugins.
Is 2Mhost going to remind me when the SSL certificate is due renewal? How much is the SSL renewal rate?
2MHost will handle the SSL setup and renewal, there is no need to remind you and there is nothing to do from your end. Both SSL setup and renewal are 100% free.
"very efficient, reliable, quick and tech support
Giulio"

Giulio Salvadori, Bologna, IT

www.salvadori.info
On Sep 2, 2019

"I haven't had to think about 2M at all, and that's perfect. Good price, reliable, and no need to contact customer support."

Jared Throne, Richmond, US

www.jaredthrone.com
On Jun 4, 2016

"Has been consistently reliable for close to 14 years now..."

Tim Sinnaeve, Atlanta, US

www.sinnaeve-willems.net
On Feb 20, 2017

"having a business that uses a "brand name" is important to me, and protecting it is important. i just got a call for a gig and all they remembered was
"soft island sounds"

thanks

mike"

Michael Dormann, Burien, US

www.softislandsounds.com
On Jul 21, 2011