Litespeed and NVMe based High Performance Web Hosting for a significant user experience improvement.
No fine print or introductory pricing tricks, always renew at the price you sign up for.
High Performance Hosting Plans
Pricing lock & 30 days no-questions-asked money back guarantees.
Pay every 3 months
Pay every 6 months
Pay every 12 months
Pay every 24 months
LiteSpeed Hosting highlights
Included for free in all plans.
Ultra-Optimized performance.
---
Compared to Apache, Litespeed web server(LSWS) offers greater speed and performance through a number of proprietary features like its event-driven architecture, Caching and PHP API.
Faster PHP execution is guaranteed with our setup that includes Cloudlinux, LSWS, HTTP/2 and PHP 7.
Litespeed offers application specific plugins to get the best performance of litespeed web server and Litespeed Cache (LSCache) with no configuration required.
LSCache for WordPress, Laravel, Joomla, PrestaShop, Drupal and MediaWiki.
LiteMage plugin for Magento.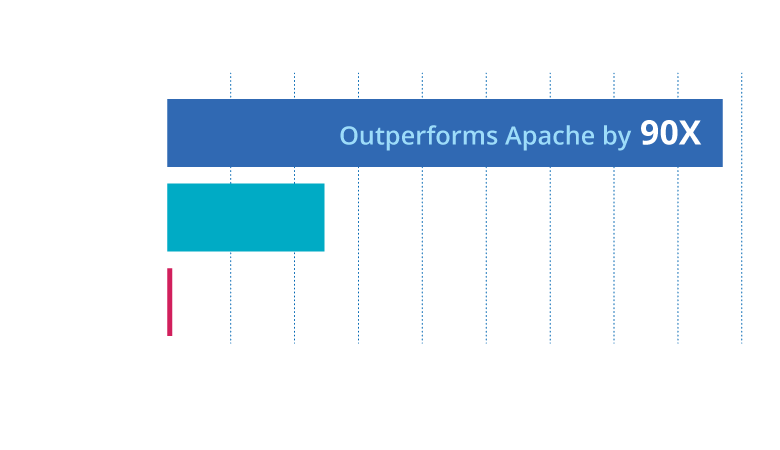 Benchmark source
SSL Certificates
---
In July 2018, Google Chrome, the most used browser worldwide, marked any website without an SSL certificate installed as "not secure" and so, SSL certificates are mandatory on any website.
2MHost will automatically install SSL certificates in all hosted websites for free, and keep renewing them, no hidden fees or fine prints.
Remote, Automated Backup
---
We will automatically back up your website twice a week — files, e-mails, databases, everything — regardless of how big your website is, at no cost. Then we move the backups to an external server in remote data center for extra security.
You will be able to access the backups from your cPanel to restore full or only parts of your website at any time.
I want to switch to Performance (Litespeed) hosting, Do I have to modify my website?
No changes are required, Litespeed is a drop-replacement of the standard web server (Apache). If your application like Wordpress uses any caching plugin then it's recommended to disable it and use the free LSCache plugin instead.
Will Litespeed based hosting increase the performance of any website?
Yes. Unless your hosting is used mainly for e-mail, your website will get performance benefits from using Litespeed hosting. Even if your website contains only static files (HTML and media files), you will get a performance boost from using Litespeed.
What versions of PHP do you support with LiteSpeed Hosting plans?
2MHost currently supports PHP for the following versions: 5.6, 7.0, 7.1, 7.2, 7.3, 7.4 and PHP 8 which you can change between easily from your cPanel. However, your website will lose most of the performance benefit if you are still using PHP older than version 7.
"Our website has been hosted by 2MHost for several years with no issues"

Dennis Hurlbut, Gobles, US

www.goblesumc.org
On Jul 18, 2018

"Helpful staff and quick customer service.
Server speed seems to be an issue, though, at least for the websites I am running."

Faycal Alami, Cologne, DE

www.globaltech-translations.com
On Dec 17, 2019

"We came for the price. We hoped for a website that was easy to use and quick to load...and we got so much more!

Anyone and everyone should consider this service!
"

Colleen Kozlowski, Girard, US

www.sheepregistry.com
On Feb 19, 2013

"I've been with 2mhost for a long time and am very satisfied with there service and products."

Rosie Green, Toronto, CA

www.ohsoultra.com
On Sep 28, 2011